Friday, May 4, 2012 at 12:27PM
lilacs galore by Muffet
I do love springtime! Since I've ressurected the Flackadelic blog (first incarnation began in 2002), I'm bringing back the Friday Phive format with a few tweaks. (For the curious, here's an old Friday Phive from April 2009.)
#1: CWC Lecture
On April 24, I gave a lecture at Ryerson to the CWC Social Media Career Accelerator participants. My topic was social media strategy. I covered the fundamentals, talked through methodology and highlighted a few examples. I always enjoy this group (it was my fourth year presenting). The participants are a bunch of keeners ready to learn. The faculty, Lori Beckstead, Laurie Petrou from the RTA School of Media and Wendy Jacincto from CWC deliver a great program. I storified some of the conversation, links to resources and feedback. Huge thanks to all involved. I had a great time.
#2 Good read: Concerns over Nudging by Evan Selinger
A tweet from Nancy Baym tipped me to the work of Evan Selinger this week. A quick search surfaced his paper Concerns over Nudging. I like Selinger's perspective and think it is important for marketers to consider nudges, the potential impacts of behavioral marketing and the effectiveness of calls to action.
From the introduction:
This short essay by Evan Selinger gives an overview over some of the concerns that one should keep in mind when considering the nudge approach. Recognizing that choice-architecture is often unavoidable and at times commendable, it points out that nudges of certain kinds and configurations have the potential to engender moral and political apprehension.

The essay succeeds in showing why it is always worth considering twice whether or not a nudge is the best way to make people choose the right thing and why it is necessary that a better dialog is established between nudge designers and nudge critics.
#3 May the Fourth be With You - Happy Star Wars Day
May the 4th is Star Wars day an annual celebration for Star Wars fans.
If you enjoy Star Wars (and the pop culture memes around the venerable franchise) as much I do, check out these links:
#4 Advertising comes to Tumblr
Tumblr is just massive. As of this writing, the platform hosts 22.4 billion posts on 54.2 million blogs. In the next six months, "tumblr" will replace "blog" in Google popularity.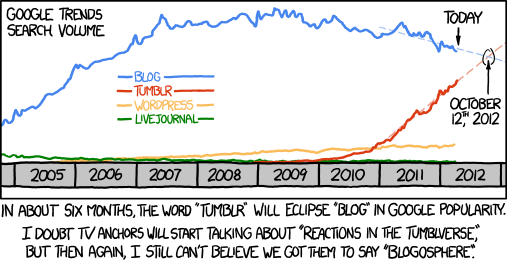 This week Tumblr founder David Karp announced his platform monetization strategy:
Tumblr will be rolling out a new, two-pronged advertising schema. Advertisers will be allowed access to the Tumblr Spotlight, a portion of the site that new users can browse, which Mr. Karp called a "major point of discussion." Mr. Karp is also letting advertisers into the Tumblr Radar section of the site, which heretofore only featured sites chosen by Tumblr.
Other sources revealed more details:
"The overall thesis of what we're trying to do is empower and highlight interesting creative advertising," said Derek Gottfrid, Tumblr's vp of product. "It's not meant for the direct-response crowd."

Derek spoke to me about Tumblr's new ad platform. Click here to read the article. (via joshsternberg)

Minimum ad price: $25,000. The look of said ad: Intended to be seamless and attuned to the platform. (via shortformblog)
Bring it on! I hope tumblr continues to innovate their ad model - they have some of the most engaged users of any platform. As a tumblr long-time user and having expertise with social ad placements, I think there is plenty of room on the platform for an approach to content marketing for advertisers based on interests and quality (i.e. the promoted tweet model).
#5 On the Playlist: Jack White's Blunderbuss
Great album. Don't just take my word for it: Jack White has his first Billboard 200 number one with Blunderbuss. The Guardian says "Blunderbuss is White at his most strange, contradictory and unfathomable, and therefore at his best."
tagged
CWC Career Accelerator,
Evan Selinger,
Jack White,
Nudges,
tumblr
in
Friday Phive